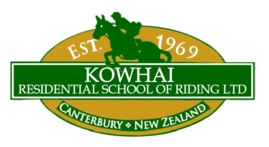 BOOKING CONDITIONS - budget courses
Full payment is required to make a booking.
Your payment is transferable with at least 7 days notice.
Your payment is only refundable if we can re-sell your place, it will then be refunded less a $20 admin fee.
Your payment is fully transferable if we cancel the course due to weather conditions.
© Kowhai Residential School of Riding Limited, 711 Island Road, Oxford, North Canterbury, New Zealand.
Phone (03) 3124 309 Mobile (021) 16 19 964 Fax (03) 3123 079
BOOK | EQUIPMENT | SHUTTLE | DIRECTIONS | PRICES | BYO HORSE